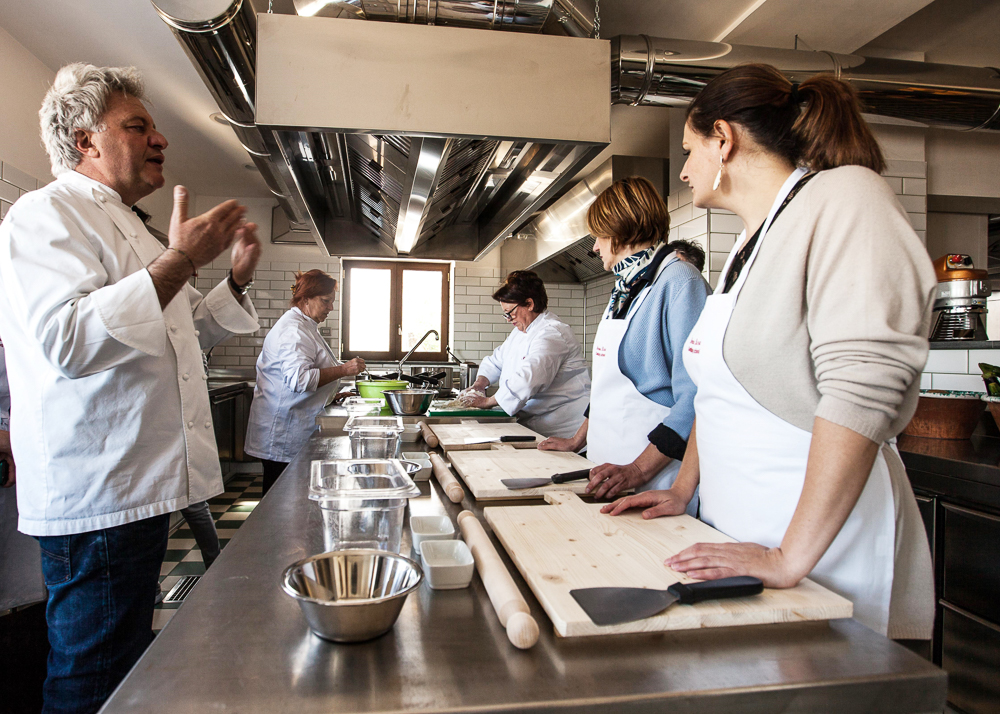 Standing alongside 'Antica Osteria Nonna Rosa's staff and family you will learn how to make a multi-course Neapolitan/Amalfi Coast meal.
Then, you will learn all of our generational cooking techniques. We will share our family's recipes and cooking technique showing you how to update them with organic artisanal Amalfi Coast ingredients.
Detailed Cooking Lessons program:
Upon arrival you will be enchanted with the scent of freshly baked bread and pastries that will be paired with Nonna Rosa's homemade jams. You will be offered a freshly brewed cappuccino and a refreshing glass of either organic lemonade or orange juice made from our organic citrus garden.
After your welcome brunch, you will be given a tour of our organic gardens at which time you will be then pick the organic vegetables for the recipes of the food you will be cooking,
You will enter a professional stainless steel kitchen and be led to your personal cooking space. Now you will begin your hands-on Nonna Rosa cooking experience!

You will start with learning the traditional Neapolitan/Amalfi four course Menu:
–          Appetizers (antipasto)
–          Fresh pasta (pasta fresca)
–          Second course (secondo piatto)
–          Dessert (dolce)
Of course all of our menus are seasonal menus utilizing our fresh organic ingredients
During the Cooking Class you will be encouraged to taste the amazing foods that you are preparing saveur

 

the flavors of our organic extra-virgin olive oils, fruits and vegetables. And of course you will be drinking plenty of our local wine. Salute!

After preparation of your Neapolitan/Amalfi Coast meal, you can relax outdoors and enjoy the breathtaking gardens views overlooking the sea and Mount Vesuvius

After a short break you will partake in dining on the amazing delicious food you have prepared. Weather permitting you will dine outdoors (al fresco) on our patio overlooking the sea, our gardens and Mount Vesuvius or indoors in front of an ancient fireplace (Buon appetito!)

Lastly, Nonna Rosa's Family will offer you a gourmet basket of homemade preserved jams and other seasonal products made by nonna. A customized apron, the recipes of what you cooked and the participation certificate will be given to you as well.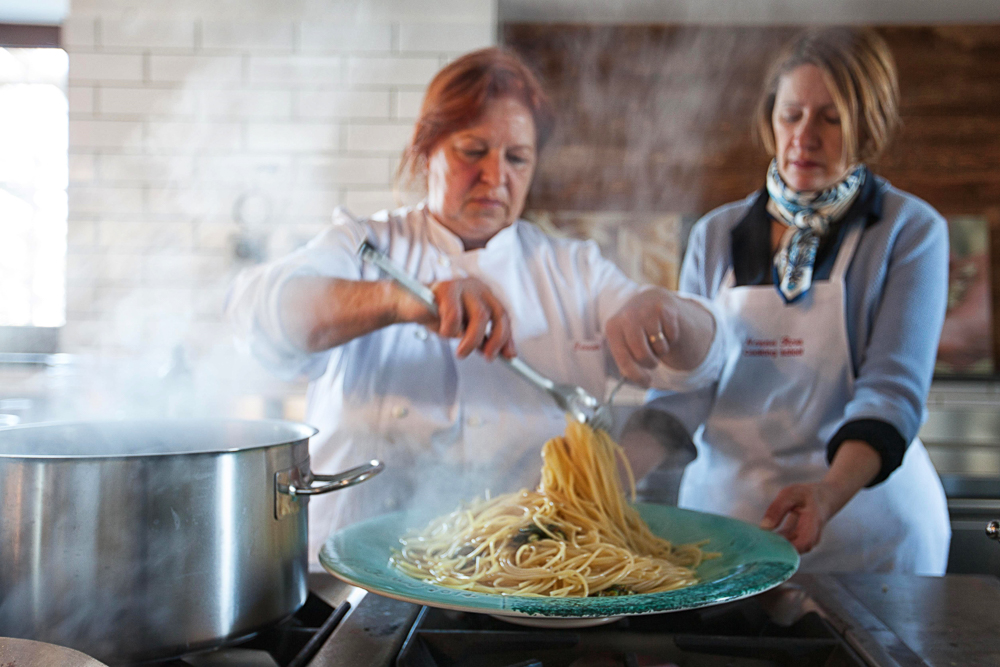 Here is what is included:
Round-trip Transfer to/from your accommodation in Sorrento area
Guided tour of the estate and vegetable gardens
Hands-on Cooking Class held in English
Organic ingredients used during your cooking classes
Local Wine with meal
Complete multi-course meal (Appetizers, Pasta Course, Second Course, Dessert)
Coffee espresso and homemade liqueurs
Customized apron
Recipes from your class
'Nonna Rosa Cooking School' Participation Certificate
Gourmet Foods Gift Basket
Please note:
The regular Cooking Classes are conceived for all the levels of cooking and are held by professional staff of Michelin Star Restaurant 'Antica Osteria Nonna Rosa', carefully selected by Chef Peppe Guida.
On request with a premium fee, we also offer the chance to have private Cooking Classes with Chef Peppe in person. In this case, you will have the privilege to spend an entire day cooking side by side with a Michelin Star Chef who will be sharing his skills, high end technique, and secrets

in fun and informal way

. This advanced class for experienced passionate cooks, includes hands-on chopping, slicing, dicing, sautéing and prepping seasonal foods. You will use organic ingredients and professional technique to help you create artisan breads, antipasto, pasta, risotto, main courses, pastries & desserts.